My Hero Academia Set Vol 6-34
Step into a world where everyone has a superpower, or 'quirk,' with My Hero Academia Manga Set Vol 6-34. This captivating manga collection from Kohei Horikoshi is an essential addition to any anime and manga enthusiast's library. Unleash your inner 'quirk' as you delve into the high-octane, action-packed universe of My Hero Academia.

This comprehensive manga set comprises volumes 6 through 34, following the journey of Izuku Midoriya, our powerless protagonist, as he attends the prestigious U.A. High School for heroes in training. Readers will be engrossed in Midoriya's pursuit of becoming the world's greatest hero despite lacking innate superpowers in a society where quirks are the norm.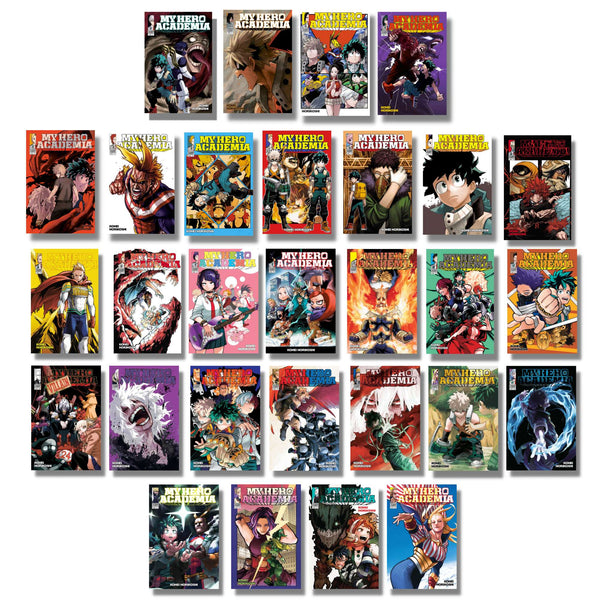 My Hero Academia Manga Set Vol 6-34 encapsulates the exciting and epic battles between heroes and villains, laden with themes of courage, friendship, and perseverance. These manga books are perfect for long-time fans seeking to complete their collection, or new readers wanting to catch up with the series. Whether you're a shonen manga reader or a lover of action-packed stories, this box set is a must-have.

Encounter popular characters like the fearless All Might, intelligent Momo Yaoyorozu, and the hotheaded Katsuki Bakugo in rich, detailed illustrations. Their thrilling adventures and battles, pivotal plot twists, and character development have made My Hero Academia one of the most popular manga series globally.

Discover why My Hero Academia Manga Set Vol 6-34 consistently ranks at the top of the charts in the manga universe. This high-quality manga box set guarantees an immersive reading experience, transporting readers into the heart of a world where superpowers are the norm.

Don't miss out on the opportunity to own this manga set that gives you a comprehensive view of the My Hero Academia universe. Step into U.A. High School and immerse yourself in the fast-paced world of heroes and villains with this phenomenal manga collection. Unleash your inner hero with My Hero Academia Manga Set Vol 6-34.