Demon Slayer Box Set With Stories of Water and Flame, The Flower of Happiness & Coloring Book
Demon Slayer Complete Box Set (Volumes 1-23) with Premium, Part of Demon Slayer: Kimetsu no Yaiba By Koyoharu Gotouge.
Tanjiro sets out on the path of the Demon Slayer to save his sister and avenge his family! In Taisho-era Japan, kindhearted Tanjiro Kamado makes a living selling charcoal. But his peaceful life is shattered when a demon slaughters his entire family. His little sister Nezuko is the only survivor, but she has been transformed into a demon herself! Tanjiro sets out on a dangerous journey to find a way to return his sister to normal and destroy the demon who ruined his life.
.
Demon Slayer: The Official Coloring Book features the art of Koyoharu Gotouge, the creator of the hit manga series, Demon Slayer: Kimetsu no Yaiba.
This book is filled with over 70 detailed line illustrations based on images found in the manga. This combined edition of the two original Japanese volumes features a flexible binding for easy use. Readers of all ages will enjoy coloring the gorgeous artwork, action-packed scenes, and funny moments from one of the best-selling series of all time.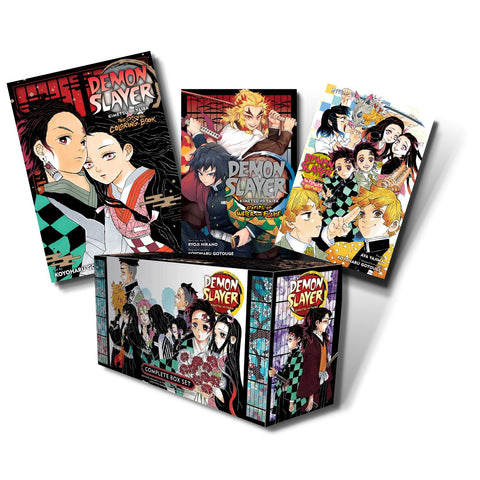 Demon Slayer Stories of Water and Flame: Giyu heads north to an area where a band of hunters was killed. He and the Insect Hashira meet Yae, the daughter of a slain hunter, who believes a bear killed her father, but the truth is harder to face. Kyojuro also receives his newest assignment and hopes completing it will prove he's worthy of the title Flame Hashira, which his father abandoned. An explosive battle unfolds as Kyojuro takes on a demon of the Twelve Kizuki who holds a grudge against Kyojuro's father.